Entry for Saturday, May 30.
( Click me for today's menu of yummy foods! )
Today just consisted of lunch at an Indian vegetarian restaurant, and then free time. The food at the Indian place was a bit of a hit-and-miss deal for me; some were really good; some I didn't like as much. The question came up during lunch of how to tell Chinese and Malay people apart (we had a former NUS/UNC student sitting with us). I noted that Malays tend to be darker, and that they have creased eyelids, whereas Chinese people generally don't, and that's why Chinese people have eyes that look a bit smaller. It was really eye-opening (hah hah hah) for me to say that, because the people who were sitting with me—none Asian—had never even noticed that their eyelids had creases in them, and didn't even know what I was talking about until I drew a picture of an eye in my notebook. It's so interesting that they didn't even know, because it's such a big thing for East Asian women to have creased eyelids; double-eyelid surgery is a huge thing, and things like eyelid tape and eyelid glue exist too.
Anyway, after that, we left in a group and walked around a little in Chinatown; I ducked into a shop to buy some rosebud tea, which separated me from the group. Which, in a way, was fabulous for me. I really hate traveling in large groups and prefer to be by myself, or with, at most, two other people. And I hate dictated schedules but prefer to explore by myself. So I walked around Chinatown for a bit and looked at some of the stalls selling things; it reminded me a lot of China.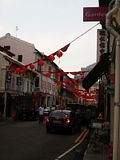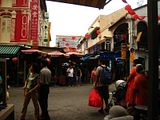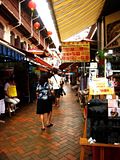 A few shots of the street that I wandered down
Being in Singapore is a really strange experience for me. I feel as if I never left home—everything is a mixture of the culture I get in Southern California and whatever I get when I'm in China. I haven't really left my comfort zone at all, and I don't feel amazed by anything because I feel as though I've seen it before. I keep getting more and more disillusioned because I feel as though I'm not experiencing anything new, and I too often feel as though I've just returned to the things that I tried to leave when I went to North Carolina. I mean, it's still pretty fun to be here, but I think I worked up expectations that were too high. (Maybe Thailand will be different?)
In any case, even though I was lost a little in Chinatown, I still managed to bump into Nadiah and Yong and a lot of SEAS people. We went off to explore the temple a bit; it's a new temple (only about two years old), so it's shiny and opulent and everything.
( 14 pictures of the temple )
After that, we went and explored Chinatown some more, seeing the markets and other things like that. While we were at the fish stalls, a catfish jumped out of its tank and started whipping itself around and trying to escape, but the merchant caught it and put it back into its tank. (Aww.) We tried some rambutan while we were at the fruit stalls (the first one was hard to open, but the second one was okay), and then we passed by a place where old men gather to play Xiangqi (Chinese chess), and I was reminded of my dad, my grandpa, and my brother, who love to play it, and Abraham, whom I taught how to play and is pretty into it. It's little things like this that make me realize how much I miss friends and family back home, even though I don't tend to express it as much.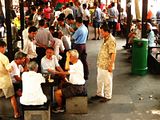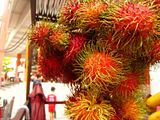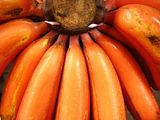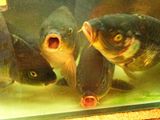 Old men playing Xiangqi; rambutan; mysterious brown bananas; carp going "OMG :O"
We then made our way over to Arab street, where we had some DELICIOUS satay (SO GOOD) and visited a mosque. The girls had to wear big robes because we were dressed indecently, and we could only wander on the fringes of the first floor, as that was where the men prayed; the upstairs, which was for the women to pray, was off-limits to non-Muslim women.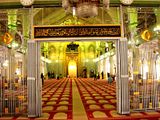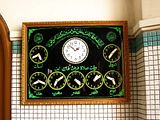 Mosque; sanctuary; prayer times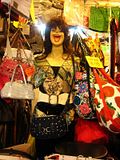 After that, Nadiah led the girls to Bugis Street, where they were selling earrings for really cheap (8 for $10). They weren't the style that I usually wear, so I just got some for friends that I know wear that style of earrings. And then I separated from the group and wandered around Bugis Street by myself. It's basically a huge, indoor street market (well, it's covered by a tent). It's mostly the more local/Asian brands; some prices were cheap, whereas others were really expensive (particularly the more noticeably stylish clothes). It was nice to get separated from the group again; I went around trying to find something that Abraham would like, but I didn't really find anything (well, I did see an AC/DC shirt, but I wasn't sure if he'd wear it—turns out he would, so maybe I'll go back and get that, though now the surprise would be ruined).
I then ran into Danielle and Morgan, and we decided to take the MRT and bus back to PGP. I had planned on getting some work done or something, but I ended up being so tired that I collapsed and took a "nap" that lasted me until about 6AM or 7AM. Whoops!
Anyway, so I'm now finally caught up on my blog backlog. Time to take a shower and finally get something to eat, maybe. :) Today's probably going to be a slow day for homework and laundry and things; maybe I'll go explore later at night.